Bengali Sweet Shop Hicksville Review
Address:


Bengali Sweet Shop

343 South Broadway
Hicksville, NY 11801


Bengali Sweet Shop Hicksville Review: A Punishment
A meal or takeout at some Long Island Indian restaurants is nothing short of a punishment.
Here is the depressing account of one of my punishments at a Long Island Indian restaurant.
The other day after shopping for Indian grocery at Patel Brothers on Broadway, I stopped by at
Bengali Sweet Shop
vegetarian restaurant to pick up lunch and some snacks and sweets.
What attracted me to the restaurant was the huge sign advertising a
$4.95
vegetarian
thali
.
When I walked into Bengali Sweet Shop around 1PM, the restaurant was quiet with just three diners.
After a quick glance at the menu, I placed my order for the $4.95 vegetarian
thali
. I also added some sweets and
Pakora
snacks.
Bengali Sweet Shop
thali
comes with a choice of two curries, Dal, Indian bread, Pappad, pickle and Yogurt.
I selected Alu Baingan Curry and Mutter Paneer curries from the food counter.
As promised, the lunch
thali
came with Dal, rice with green peas seasoning, one Paratha, Pappad, pickle and plain Yogurt.
Here is my take on Bengali Sweet Shop's lunch
thali
starting with Alu Baingan Curry:
Vegetarian Thali
Alu Baingan curry included three huge pieces each of potato and eggplant.
It was obscenely spicy and badly lacking in the right proportion of spices and salt.
Needless to say, I did not relish it one bit. Also the huge potato pieces left me scratching my head as to whether Bengali Sweet Shop's kitchen was unaware of mashing and slicing.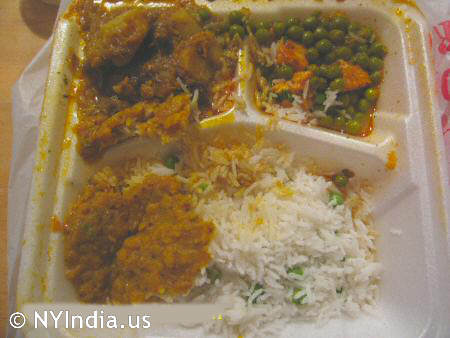 Lunch Thali
Disappointed with the awful Alu Eggplant curry, I moved on to the second curry - Mutter Paneer.
Mutter Panner was nothing but boiled green peas with some fried Paneer coated with chilli powder thrown into it.
There was too little gravy and Paneeer cubes were red chilli powder hot.
Also, the Mutter Paneer included just three small pieces of Paneer cubes.
Dal was a complete opposite of Alu Baingan and Mutter Paneer curries.
It was a bland disaster and did not come with any flavor or seasoning.
Bengali Sweet Shop Dal was nothing but finely boiled lentils bereft of any flavor.
In my opinion, an Indian restaurant that can't get the humble Dal right is unlikely to get other dishes right.
Paratha and Rice
White rice with green peas was alright. But it's really hard to mess that one up.
Pappad was crisp.
Paratha was big and soft.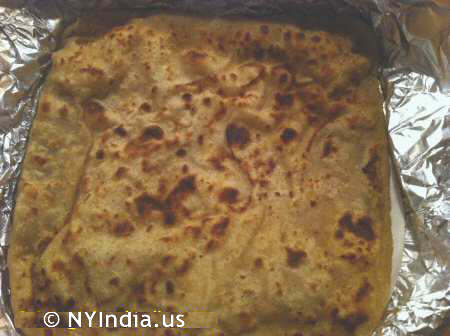 Paratha
But in the absence of edible curry sides, I could not really eat the Paratha or white rice.
Pickle was the mixed vegetable pickle variety with a slight vinegar taste. It was definitely not in the class of Andhra Pickles but not bad.
Vexed with the bad quality of curries and bland Dal, I moved on to Yogurt hoping to mix it with white rice and eat it along with the pickles.
But sometimes in life, when it rains it pours.
Alas, Bengali Sweet Shop could not get even the humble Yogurt right. It was too milky and not set properly.
Ambiance and Service
As you enter Bengali Sweet Shop, you have tables on the right, sweets counter on the left by the wall, and food counter and kitchen in the rear.
I was greeted with a curt question by an Indian waitress "What do you want to order". Taken aback by the rude tone, I meekly mumbled
thali
and sweets.
The takeout lunch thali was packed in a styrofoam box but no plastic spoons or forks, plates or napkins were included with the order.
Also the packaging was bad and the gravy from Dal and curries leaked all over the plastic bag and soiled the styrofoam box.
Bengali Sweet Shop Rating
All in all, my Bengali Sweet Shop lunch takeout was a disaster. I may not revisit it even if they reduce the thali price to 99-cents.
Based on my experience, Bengali Sweet Shop
thali
is not worth it even if you get it free. - ©
NYIndia.us