24-hrs NYC Indo-Pak Restaurants

24 Hours Restaurants on Coney Island Ave, Brooklyn
New York City like Mumbai never sleeps.
That's a good thing if you suddenly get a craving for Indian curry, Chicken Tikka or Kabob at 2AM in the morning.
Here are a bunch of Indian and Pakistani Restaurants in Manhattan, Queens and Brooklyn that are open 24x7.
At these all-;night Indian and Pakistani restaurants, you can get Samosas, Naan, Tandoori Chicken, Kababs, Vegetarian and Meat Curries and Masala Chai (tea).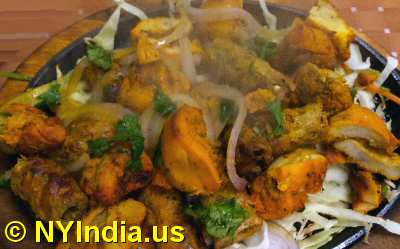 Smoke Rising off a Kabab Platter
24-HR Indo-Pak Restaurants in Manhattan
114 East 1st St
(Btwn 1st Ave & Ave A)
New York, NY 10009
Ph: 212-533-3356
Open 24-;hours



Dil E Punjab Deli

170 Ninth Ave
New York, NY 10011
Ph: 212-647-9428
Open 24-;hours
Tip -; Pick up the food and head to the High Line



Haandi

113 Lexington Avenue
(Btwn 27th St and 28th St)
New York, NY 10016
Ph: 212-685-5200
Open 10AM-;4AM



Punjab on Third

220 3rd Ave
New York, NY 10003
Ph: 212-228-6768
Open 24-;hours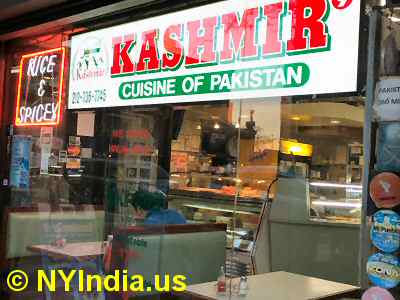 Kashmir Open till 4AM
Pakistan Tea House

176 Church St
(Btwn Duane St & Reade St)
New York, NY 10013
Ph: 212-240-9800
Open 10AM-;4AM

478 9th Ave
(at 37th St)
New York, NY 10018
Ph: 212-736-7745
Open 11AM-;4AM



Lahore Deli

132 Crosby St
(Btwn Houston St & Jersey St)
New York, NY 10012
Ph: 212-965-1777
Open 9AM-;2AM



Lahori Kabab

122 Lexington Ave
(between b/t 28th St & 29th St)
New York, NY 10016
Open 10AM-;4AM


24-Hrs Indian / Pakistani Restaurants in Brooklyn
1095 Coney Island Ave
Brooklyn, NY 11230
(Btwn Ave H & Glenwood Rd)
Ph: 718-859-8044
Open 24-;hours
Tips: Try the Kashmir Tea. Delicious


1107 Coney Island Ave
(Btwn Glenwood Rd & Ave H)
Brooklyn, NY 11230
Ph: 718-421-4100
Open 24-;hours
Tips: Try Lahori Kulfi



24 Hours Restaurants in Queens
72-08 Broadway
(Btwn 72nd & 73rd St)
Jackson Heights, NY 11372
Ph: 718-533-8700
Open 24-;hours



Kabab King

73-01 37th Road
Jackson Heights, NY 11372
Ph: 718-457-5857
Open 6AM-;4AM



Dera

7209 Broadway
(Btwn 72nd & 73rd St)
Jackson Heights, NY 11372
Open 10AM-;4AM