NYC Indian Vegetarian Restaurants
NYC and its suburbs offer rich choice when it comes to Indian restaurants serving pure vegetarian food.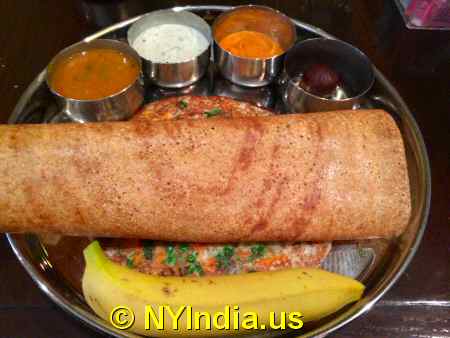 Masala Dosa, Utappam with Chutney & Sambar
Several Indian restaurants in Manhattan, Queens, Long Island cater exclusively to Indians who do not wish to dine at joints serving both vegetarian and non-vegetarian food.
Lexington Ave in Manhattan, Flushing Ganesh Temple Canteen, Dosa Hutt, Maharaja Sweets in Queens, Madras Woodlands, Chennai Dosas in Long Island are some of the popular destinations for Indian vegetarians.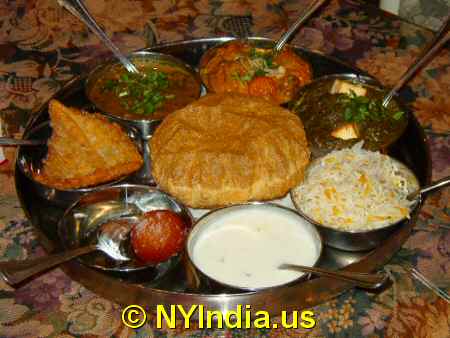 Vegetarian Thali
Thali, a la carte Menu
While most NYC Indian vegetarian restaurants offer thalis and
a la carte
menu, there are a few that offer vegetarian lunch buffets as well.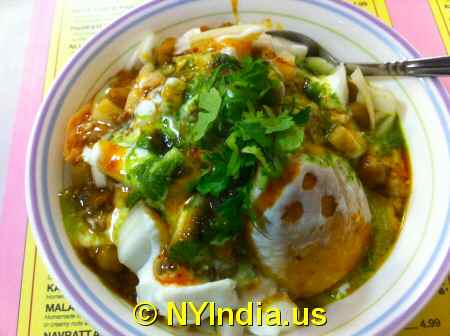 Samosa Chaat
Tiffin Wallah, Madras Mahal, Pongal on Lexington Ave in NYC and Chennai Dosas in Hicksville offer all you can eat vegetarian lunch buffet.
Masala Dosa, Tamarind Rice, Curd Rice, Idly, Vada, Pongal, Chole Bhatura, Vegetable Cutlet, Paratha, Mirchi Ka Salon, Dokhla, Samosa Chaat, Baingan Bhartha, Mysore Coffe, you get them all and more at these vegetarian Indian restaurants in NYC.
Here are a few restaurants in NYC offering Indian vegetarian food:
1071 1st Ave
New York, NY 10022
Ph: 212-750-6666



Annam Brahma

8443 164th St
Jamaica, NY 11432
Ph: 718-523-2600

706 Amsterdam Ave
New York, NY 10025
Ph: 212-932-2400

343 S Broadway
Hicksville, NY 11801
Ph: 516-935-3391

128 Broadway
Hicksville, NY 11801
Ph: 516-681-5151

3566 73rd St
Jackson Heights, NY 11372
Ph: 718-397-1000

45-63 Bowne St
Flushing, NY 11355
Ph: 718-961-5897

45-57 Bowne St
Flushing, NY 11355
Ph: 718-460-8484

243 S Broadway
Hicksville, NY 11801
Ph: 516-470-07861

416 S Broadway
Hicksville, NY 11801
Ph: 516-938-7517

99 Lexington Ave
New York, NY 10016
Ph: 212-679-4238

104 Lexington Ave
New York, NY 10016
Ph: 212-684-4010

7310 37th Ave
Jackson Heights, NY 11372
Ph: 718-505-2680


1629 Hillside Ave
New Hyde Park, NY 11040
Ph: 516-326-8900

50 Washington Sq S
New York, NY 10014
Ph: 917-710-2092



Pongal

110 Lexington Ave
New York, NY 10016
Ph: 212-696-9458

114 E 1st St
New York, NY 10009
Ph: 212-533-3356



Raja Sweets

7231 37th Ave
Jackson Heights, NY 11372
Ph: 718-424-1850

7227 37th Ave
Jackson Heights, NY 11372
Ph: 718-458-8512



Samudra

75-18 37th Ave
Jackson Heights, NY 11372
Ph: 718-255-1757

81 Lexington Ave
New York, NY 10016
Ph: 212-679-0204



Surya

250-18 Hillside Ave
Bellerose, NY 11426
Ph: 718-347-7770

127 E 28th St
New York, NY 10016t
Ph: 212-685-7301



Usha Foods

255-03 Hillside Ave
Floral Park, NY 11004
Ph: 718-343-1500



Vatan

409 3rd Avet
New York, NY 10016t
Ph: 212-689-5666


Other NYC Indian Food Links
NYC Biryani Restaurants
Lexington Ave NYC Indian Buffet
NYC 24hrs Indian Restaurants
Indian Buffet in Long Island
Jackson Heights Indian Buffet