Chennai Dosas Hicksville Review
Address:


Chennai Dosas

128 Broadway
Hicksville, NY 11801


Chennai Dosas Hicksville Review: Disappointing
With few exceptions, Long Island Indian restaurants have often disappointed me.
The latest Indian restaurant in Long Island to bring me close to tears is
Chennai Dosas
in Hicksville.
A vegetarian restaurant that occupies the same spot as the now departed
Dosa Diner
,
Chennai Dosas'
claim to fame is that it specializes in South Indian vegetarian fare.
Chennai, for those unfamiliar with India's geography, is the capital of the South Indian state of Tamil Nadu (notorious for its prodigious output of obscene Tamil films).
Most Indian restaurants in the U.S. serve North Indian food but South Indian restaurants are now belatedly expanding their presence on the East Coast.
Appetizers
I started my meal at
Chennai Dosas
with the obligatory Pakora/Bajji appetizers.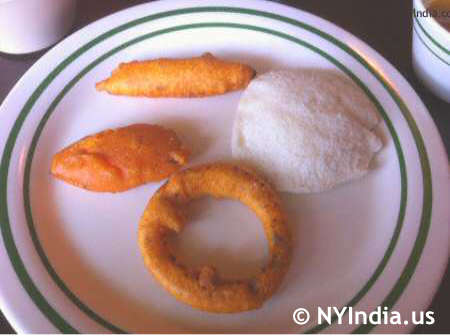 Idly, Mirchi Bajji and Pakora
Nothing much to be said for the appetizers. Standard fare that you get at a gazillion Indian restaurants.
But I'd put the Idly in the decent category. Soft and light, the Idli would have been heavenly if only the sides (the Chutneys and Sambar) were up to snuff!
Chutneys & Sambar
Coconut Chutney was a bland mess that any self-respecting South Indian restaurant would balk at serving paying diners.
A South Indian restaurant that can't get the Coconut Chutney right fails at the most basic level and has no right to stay in business.
Green Chutney was ice-cold, suggesting it had just emerged from the fridge. How lazy must a South Indian restaurant be if it serves cold Chutney to customers.
Tomato Chutney was the best of the Chutneys. It was tangy, thick and a delight to eat.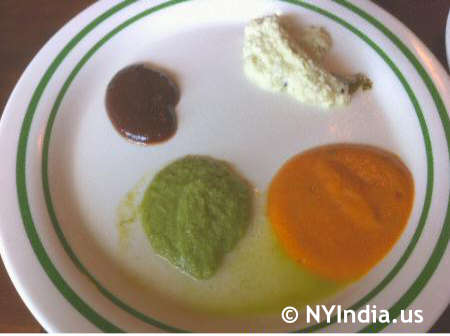 Tomato, Coconut & Green Chutneys and Tamarind Sauce
During our visit, the Sambar was made from drumsticks.
But to my chagrin the flavor quotient of Sambar was low.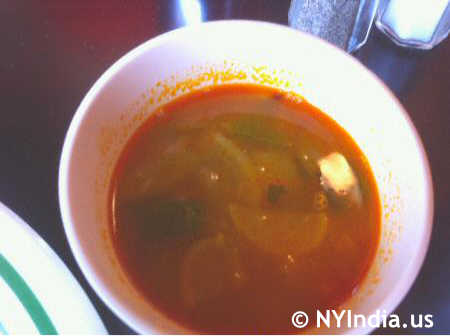 Sambar with Drumstick & Other Vegetables
By the way, the watery
mulligatawny
Rasam was delicious.
Disappointing Masala Dosa
When a restaurant sports a name like Chennai Dosas, the least it can do is to ensure that the Dosas (South Indian rice crepes) do not sully its reputation.
Sure, the Masala Dosa was crisp and large but the onion-potato filling inside was such a bland monstrosity that I wondered if Satan's gnarled hand was involved in its preparation.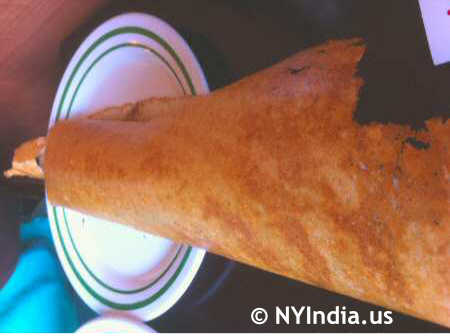 Masala Dosa
I'm also a big proponent of using some ghee instead of oil in making Masala Dosas. Alas, no such luck at Chennai Dosas.
Uttappam
Vegetable Uttapam looked attractive but, alas, was not much to write home about.
In my opinion, a good Uttappam should be tasty even without the Chutneys or Sambar.
I wonder if the dilettantes in Chennai Dosas' kitchen even used chillies in its preparation.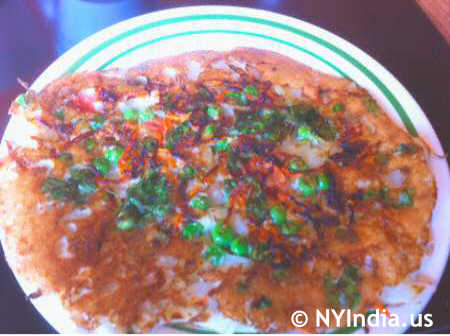 Uttappam
Dal and Curries
Channa Sag was tasty despite being low on spices.
Man, it vexes me enormously when Indian restaurants go easy on the spices and chillies for fear of offending
effete
American palates.
Baingan Barta was far too sour than warranted and yielded little joy.
Dal was not as bad as it usually is at most Indian restaurants. That's the only thing I can say in its favor.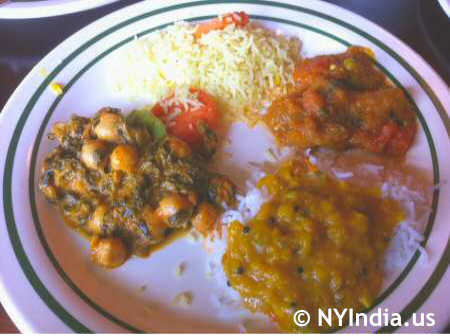 Dal, Channa Saag, Baingan Bartha
Curd Rice
South Indians, unlike their Northern counterparts, like to finish their meal by pouring yogurt over rice and eating the combination with pickle as a side.
Chennai Dosa's Curd Rice was very cold, not a pleasant prospect even on a hot day.
But with the hot mixed vegetable pickle, it was not a bad deal.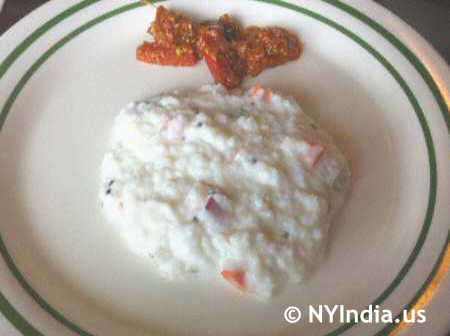 Yogurt Rice with Pickle
Desserts
Carrot Halwa was short of ghee.
Also, it was slightly watery and packed an off-putting taste.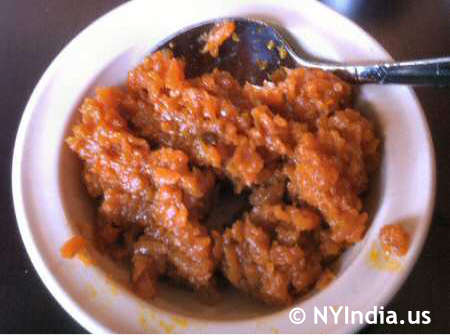 Gajar Halwa
Service
The oleaginous waiter/co-owner Prabhakar, a native of Trichy from the Indian state of Tamil Nadu, was a pleasant feller with an ingratiating smile. He recounted his long years in the business and mentioned he'd paid his dues as an employee at nearby Hicksville Indian restaurants.
Water glasses were filled promptly and finished plates removed with alacrity.
Chennai Dosas Rating
Chennai Dosas leaves a lot to be desired where the quality of food is concerned.
Like a lot of Indian restaurants, Chennai Dosas shies away from spices in the belief that its American clientele cannot endure the heat.
On the plus side, the restaurant is clean and the service pleasant.
But when I visit a restaurant, food comes first. Service is secondary.
Given my overall disappointment with the food, it's unlikely I'll be returning anytime soon to
Chennai Dosas
. - ©
NYIndia.us