Bombay Chat Jackson Heights
Address:


Bombay Chat

73-19 37th Rd
Jackson Heights, NY 11372


Bombay Chat Jackson Heights: Awful Chaat, Disgusting Dump
Of the countless Chaats we've had in a long life time, rarely have we stumbled upon a Chaat as horrid as the ones we got at
Bombay Chat
in Jackson Heights, NYC.
What is Chaat?
Chaat is Indian street food, consumed in all parts of the country.
Spicy and tangy at the same time, Chaat induces a feeling close to euphoria.
Chaat also owes its fame to the several varieties - There is Samosa Chaat, Aloo Papri Chat, Bhel Puri, Sev Puri, Dahi Paapri Chaat etc. Key to a good Chaat is getting the diverse ingredients in the right proportion.
Get the proportion of one ingredient wrong and there goes your Chaat down the hole.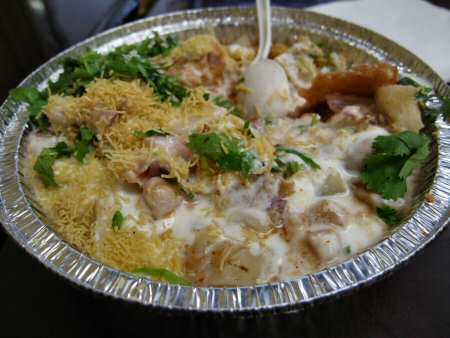 To describe the Samosa Chaat from Bombay Chat as garbage would be too charitable.
Our Chaat was freezing cold because the idiots in their infinite stupidity decided to use freezing cold Yogurt in the Samosa Chaat.
Nobody uses freezing Yougurt in a Samosa Chaat!
The Samosa was not heated.
Compounding our misery, the lady who prepared the Samosa Chaat got the proportion of the Chick Peas, Onion, Tamarind Sauce and the Chilli Sauce all wrong.
Bottom line, misery of the worst kind was handed to us for $6.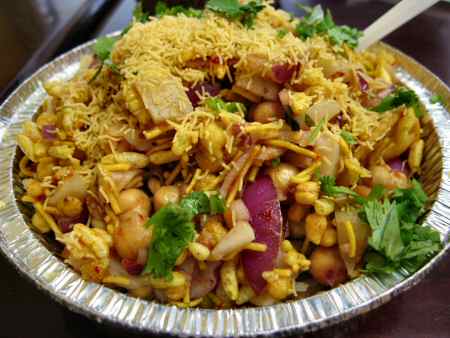 When we asked about the Bombay Chaat, we were told it was a spicier version of the Bhel Puri.
With stars in our eyes, we quickly asked for it.
Alas, a fool and his money are soon parted! :(
The Bombay Chaat was such an offensively bad dish that we could barely spoon a few morsels in our mouth.
It had too much of Red Chilli sauce but too little of the Tamarind sauce. To make a bad Bombay Chaat worse, the lady failed to mix it throughly with the result that some parts of it were too spicy and other parts bland.
Unhygienic Dump
As you enter Bombay Chat, you have chat station on the left near the entrance, some tables, food counter at the rear, menu on the wall above the food counter.
The middle-aged lady who prepared our Chaats was not the kind to worry about such things as hygiene.
Without wearing kitchen gloves, she picked up stuff like Coriander leaves and Sev and sprinkled them on the Chaat.
We also saw the same lady handling other food items on the food counter like pre-made Vegetable Pakora with bare hands.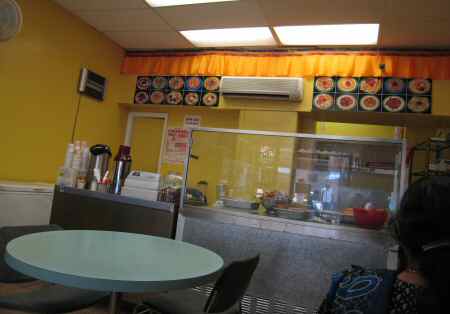 The tiny place has the look of a shitty dump and the two Chaats we tried were inedible disasters.
Bottom line, these cash-only
Bombay Chat
jokers are clueless bozos who should pick some other profession to practice their sadism! - ©
NYIndia.us