Indian Associations in New York
The Indian community is strong and vibrant in New York area.
The New York area is home to multiple Indian associations.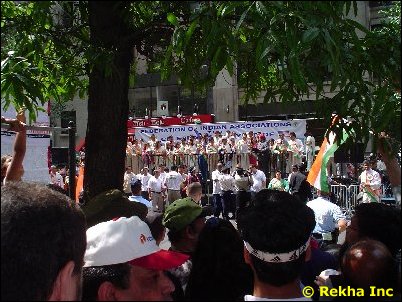 These associations organize frequent events to celebrate
Indian Independence Day, Diwali, Ganesh Chaturthi
and
Dassehra
that bond the community.
Most of these events include cultural programs like Bollywood and Bhangra dance and Carnatic Music concerts and as well as food vendors serving delicious North Indian and South Indian food items like Tandoori Chicken, Samosa, Masala Dosa, Chaat, Utappam, Pongal, Dum Biryani etc.
Here are some Indian associations active in NYC:
Aditi

ISA
Univ. of Rochester,
Rochester, NY



Arya Spiritual Center

85-61 144th St, Briarwood,
Queens, NY 11435
Ph 718- 297-8487

Undergraduate South Asian Association,
Columbia University NYC



Cultural Association of Bengal

3275 Steinway St
Astoria, NY 11103
Ph: 718-545-0445

PO Box 700,
Getzville, NY 14068
Ph 716-636-5342



Jain Center of America

4311 Ithaca St
Elmhurst, NY 11373
Ph 718-424-9333



Kannada Koota

119-14 Linden Blvd
S.Ozone Park, NY 11420
Ph 718-738-7948
Clarkson University
Potsdam, New York




Gita Sangha

170-17 Cedarcroft Rd
Jamaica, NY 11432
Ph: 718-297-5420

University of Buffalo, New York




Gujarati Samaj

173-15, Horace Harding Expwy,
Flushing, NY
Ph: 718-357-8471



NetIP

PO Box 3165
New York, NY 10163


Rochester Institute of Technology, NY





The Indus Entrepreneurs

50 BRd St, Ste 430,
New York, NY 10004
Ph: 212-271-9855