Hot Breads Hicksville Review
Address:


New Hot Breads

243 S Broadway
Hicksville, NY 11801


New Hot Breads Hicksville: Spoiled Chutney, Good Indian Biscuits
Like most
desis
, I'm addicted to Plum Cakes and Indian biscuits.
Not surprising because bakeries are big in India. Every street has a bakery!
Indian biscuits come in a variety of flavors - coconut, butter, salt, jeera, cashew and the list goes on.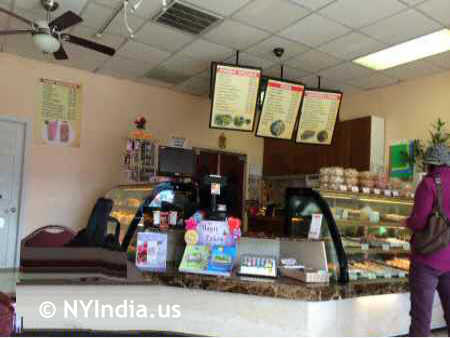 During a recent visit to Hicksville in Long Island, I stopped by at
New Hot Breads
on South Broadway to stock up on biscuits and cakes.
Besides biscuits, puffs and cakes, New Hot Breads also peddles Samosas, Chaats (Indian street food) of various kinds, sandwiches and cold beverages.
When I entered New Hot Breads around 1PM, the bakery was deserted and without any customers or staff.
After a few seconds, an elderly gentleman emerged from the kitchen to help me with my order.
I purchased a Plum cake ($5.99), one box each of assorted biscuits($3) and jeera biscuits ($3) and two Samosas($2).
Here is my take on New Hot Breads Hicksville Plum Cake and Biscuits: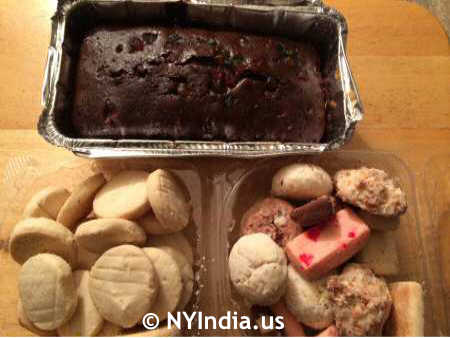 Plum Cake (top) Sweet Biscuits (left) Jeera Biscuits (right)
Plum Cake
Plum Cake ($6) was fresh and included small Tuty Fruity pieces.
It was dark brown in color as most Indian Plum Cakes are.
While I liked the freshness of the Plum Cake, I felt it could have done with a bit more sugar.
Hot Breads Biscuits
The $3 Jeera Biscuits box included 20 biscuits.
With subtle jeera and salt flavor, the biscuits were fresh and tasty.
Assorted Biscuits included 15 pieces ranging from Coconut to Tuty Fruity, Butter, plain and Chocolate.
Of the five varieties of biscuits, Coconut biscuits were the best. They were crunchy, fresh and, needless to say, much relished.
Butter biscuits were delicious and almost melted in my mouth. Tuty Fruity and Chocolate Biscuits were alright.
But the plain biscuit did not endear itself to my tastebuds. Mercifully, there was just one piece.
Spoiled Tamarind Chutney
While I was happy with the Plum Cake and Biscuits, the sauces that came with my Samosas turned out to be a disgrace.
Tamarind sauce was spoiled and gave out a foul smell.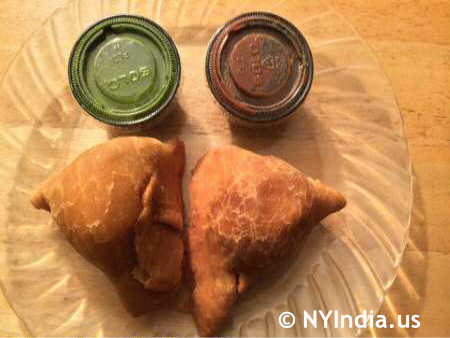 Samosa, Green Chutney, Tamarind Sauce
And the Green Chutney was not in the least bit spicy and had an overpowering flavor of mint leaves.
Samosas were large, well fried and the potato filling was alright.
But the spoiled Tamarind Chutney and near-bland Green Chutney ruined the joy of eating this commonplace North Indian snack.
Ambiance & Service
As you enter New Hot Breads, there is a counter on the right side with different types of Indian biscuits, pastries and cakes on display.
Tables are on the left side. You select your biscuits and cakes, make the payment and pick up your order.
The elderly Kolkata gentleman at the counter was courteous and handled my order smoothly.
New Hot Breads Hicksville Rating
If you crave Indian Plum Cake, pastries and biscuits like me, New Hot Breads in Hicksville is a place you can consider visiting.
During my next visit to
New Hot Breads
in Hicksville, I intend to try some of the Chaats. - ©
NYIndia.us