New Chilli & Curry Hicksville Review
Address:


New Chilli & Curry

106 Woodbury Rd
Hicksville, NY 11801


New Chilli & Curry Hicksville: Satan's Outpost in Hicksville
No,
New Chilli & Curry
is not a bad Indian restaurant.
Because it's an awful restaurant that casts a dark stain on the reputation of Indian cuisine.
After a terrible meal at
New Chilli & Curry
, I felt the more appropriate name for this Hicksville Indian restaurant should be "
No Chilli Curry
".
I was visiting
Afghan Hindu Temple
on East Barclay Road the other day and on impulse headed to the nearby New Chilli & Curry for lunch.
Located on Woodbury Road in Hicksville, New Chilli & Curry restaurant offers North Indian, Indian Chinese and Thai style curries.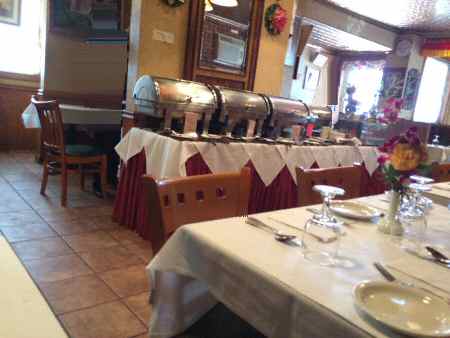 Buffet Counter at New Chilli & Curry
Lunch Buffet
When I walked into New Chilli - Curry around noon, the all-you-can-eat lunch buffet for $8.95 was on offer.
Hey, who can say "
no
" to a $8.99 Indian lunch buffet.
Like at most Hicksville Indian restaurants, lunch buffet at New Chilli & Curry included usual suspects like Vegetable Pakoras, Tandoori Chicken, Dal Tadka, Naan Bread, Chicken Makhani and Rice Pudding plus a few other items.
Alas, much of what I tasted turned out to be bland no-chilli curries or burnt disasters.
Tandoori Chicken
Tandoori Chicken packed little flavor and was poorly marinated.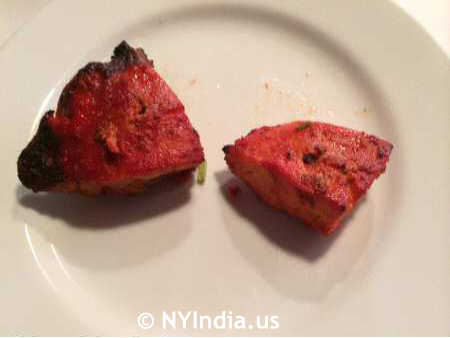 Tandoori Chicken
Sure the Chicken was tender but absence of flavor and poor marination ruined the joy of eating this common North Indian chicken delicacy cooked in a Tandoor (clay oven).
It was so bad that I had to return to the buffet station for some sliced onions and a piece of lime to push this abomination down my throat.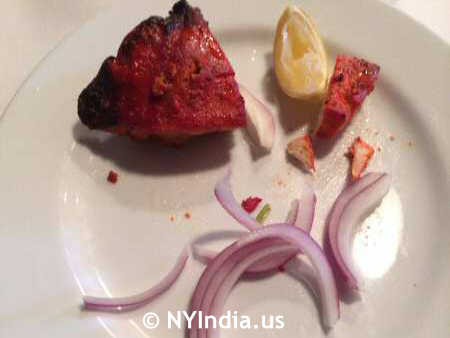 Tandoori Chicken with Onion & Lime
Pakora
Vegetable Pakoras rivaled Tandoori Chicken in poor taste.
The Vegetable Pakoras were extremely rubbery and packed no flavor.
If a restaurant can't get simple stuff like Tandoori Chicken and Pakoras right, they ought to down the shutters forever.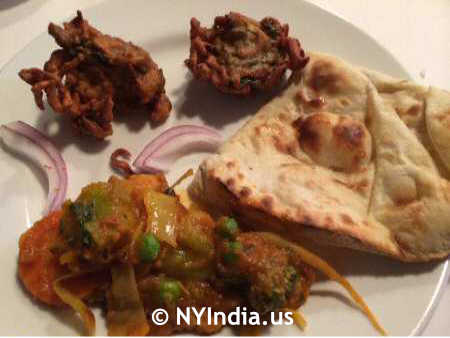 Pakora (top), Alu Cabbage (bottom), Naan (right)
Entrees and Naan
Hoping to find some solace in the
entrees
, I moved on to Chicken Makhani, Alu Cabbage, Dal Tadka and Hakka Noodles.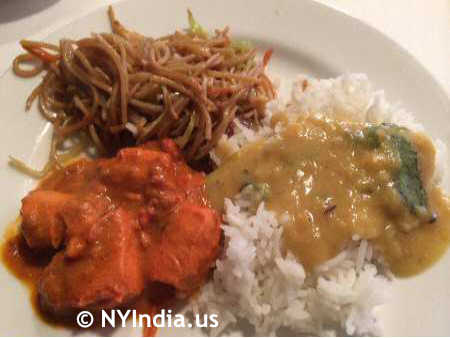 Chicken Makhani (bottom), Hakka Noodles (top), Dal (right)
Chicken Makhani, though creamy, packed little flavor.
Ditto with Dal Tadka. It felt like I was eating finely cooked yellow lentil paste.
With a surfeit of turmeric powder, Alu Cabbage was neither spicy nor tasty.
Vegetable Hakka Noodles was just one step above bland and nothing much to write home about.
By this time I was so vexed with the No Chilli Curry at New Chilly Curry that I skipped Goat Masala to give my tastebuds a respite from the spiceless assault on my Indian palate.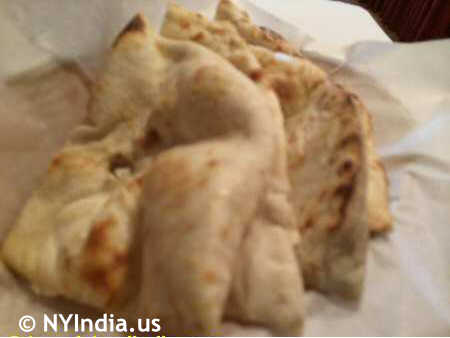 Naan Bread
The only good thing about the Naan bread was it was served at the table, not dumped in a heap at the buffet station.
It was just average in taste and texture.
Desserts
Rice Pudding was the sole dessert at the buffet station.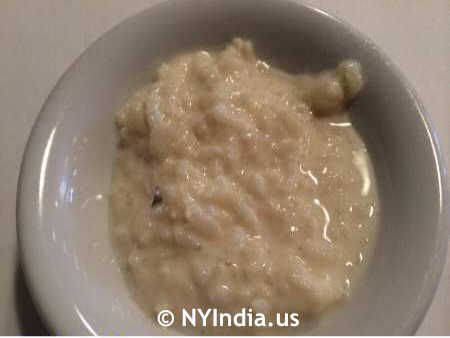 Rice Pudding
New Chilli & Curry would have done a mighty big favor to its paying customers had they not included any dessert.
You see, the Rice Pudding had an extremely off-putting, burnt flavor.
The burnt flavor was so overpowering that I had difficulty putting a second spoonful into my mouth.
Whoever cooked this Rice Pudding deserves a special place in hell!
Ambiance and Service
Like most Indian restaurants in Hicksville, New Chilli & Curry has no ambiance to speak off.
As you enter you have tables upfront, lunch buffet counter on the right side.
Tables are clean covered with a table cloth. Water glasses were placed upside down on the tables. Used plates were removed promptly.
The restaurant is small and tables are packed tight.
New Chilli & Curry Rating
Much of the food I tasted at New Chilli & Curry was plain awful and packed no Chillies or flavor.
If you crave spicy, tasty Indian food like me, I suggest you stay away from this No Chilli Curry Indian restaurant.
As for me, I am not returning to
New Chilli & Curry
any time soon. One bad experience is enough! - ©
NYIndia.us