NYC - Indian News Corner
Diwali: Festival of Lights
on October 15, 2017 three days before the actual date.
Diwali: Festival of Lights
this year is from October 18-19, 2017....
Read More
*************************
Short and Sweet, ....
Read More
*************************
NYC Dasara Utsav 2017
August 25, 2017 - New York Indian community will celebrate the Hindu festival
Dushahra Navratri
on Sunday, October 15, 2017, fifteen days after the actual nine-day festival.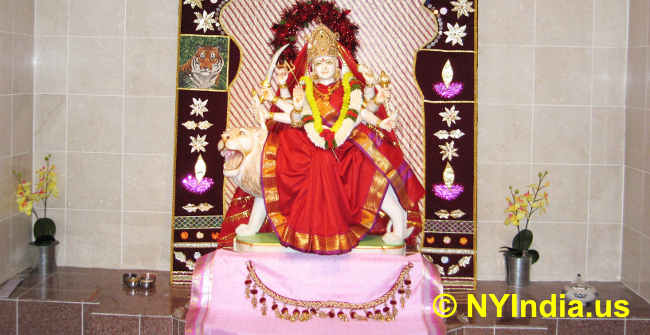 Dasara festival this year is from September 20-30, 2017.
The 2017 NYC Dushahra Utsav Navratri festival celebrations are scheduled to take place on October 15 at
Lido Beach, 630 Lido Blvd, Lido Beach NY 11561
.
Besides free admission & parking, the one-day NYC Dasara Utsav includes burning of a 30ft effigy of the demon king Ravan, Ram Leela, free health camp, astrology, mehndi, fireworks, ethnic food stalls, kids rides, arts and crafts fair, cultural programs etc.
2017 Dasara - Location & Hours
Lido Beach
630 Lido Blvd
Lido Beach, NY 11561
Date
- October 15, 2017 (Sunday)
Rain Date
- October 22, 2017 (Sunday)
Admission
- Free
Parking
- Free
Hours
: 1PM-8PM
Dasara Navratri Utsav in New Jersey
2017 Raas Garba & Dasara Navratri Utsav on Newark Avenue, Jersey City
Garba & Dasara Navaratri Celebrations in Other Cities of New Jersey
*************************
India Day Parade 2017 on Madison Ave, NYC
June 14, 2017 - Come August 20, 2017, Madison Avenue in New York City will be awash in the vibrant colors of India.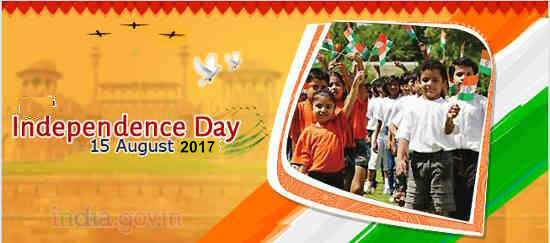 Folks, mark your calendar right now because
August 20
is the date of this year's
India Day Parade
in NYC.
An annual fixture, NYC India Day Parade starts this year at 12PM on Madison Avenue and 40th St and ends at 23rd St.
India Day Parade - Details
* Starts at 12PM Madison Ave from 40th St and ends at Madison Ave and 27th St.
* Cultural program at the end of the parade from 3PM-6PM on Madison Ave at E.23rd St.
* Food courts and merchandise booths are open from 11AM-6PM between E 24th & E 26th St on Madison Avenue.
Stick to the subway and avoid going by car as parking is a headache in Manhattan.
Related Information
NYC Indian Buffets
NYC Biryani Joints
*************************
"98.7% of the founders of important Silicon Valley companies were born in America! 99 percent are White!" - Republican commentator Ann Coulter responding to those who boast of startups founded by tech immigrants, p.239, Adios, America
Only in
Amazing America
will local workers be fired, replaced by foreigners with H1B Visas and then the locals forced to train their H1B replacements if they want to get severance.
Now if you ask Indian H1B Visa holders, they'll tell you Americans are lazy and clock-watchers .....
Read More
**********************************
Ratha Yatra Parade in Queens on August 30
August 18, 2015 -; A
Ratha Yatra Parade
ahead of upcoming Krishna Janmashtami festival is scheduled for Sunday, August 30, 2015 in South Richmond Hill, NY.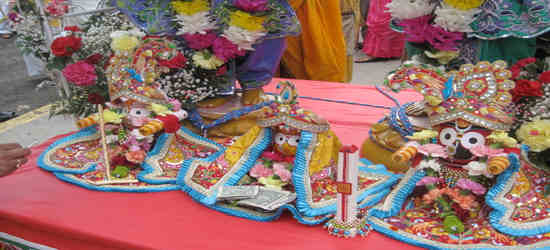 Organized by
Sri Krishna Balarama Mandir
, the Ratha Yatra Parade is scheduled to start at 12PM.
Ratha Yatra Parade -; Details
* Starts at 12PM Corner of Liberty Avenue and 123rd Street.
* Will continue all the way and end at Sri Krishna Balarama Mandir @ 111-14 101 Avenue in South Richmond Hill, NY.
If you plan on attending Ratha Yatra Parade, make sure to visit
Govinda's Vegetarian Grill
in Sri Krishna Balaram Mandir for a hearty prasadam meal.
Sri Krishna Balarama Mandir
111-14 101 Avenue
South Richmond Hill, NY 11419
Ph: 917-604-1085
Related Information
Queens, NY Indian Restaurants
*************************
Madras Mahal NYC Closes
June 9, 2015 -;
Madras Mahal
, a long-time South Indian restaurant in Curry Hill aka Murray Hill area of New York City, has shut its doors.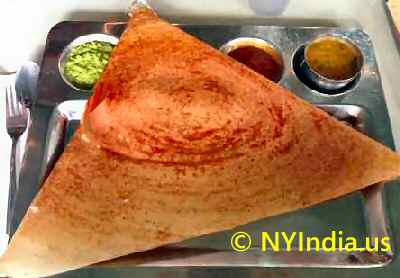 While no announcement as to the reason has come forth from the owners of Madras Mahal, the severe competition in the neighborhood, mediocre food and the depressed economy are likely causes.
Like so many other ethnic restaurants in New York City, Madras Mahal too waged a futile struggle to build a strong, lasting brand in an age of Groupons, Yelps and food carts.
Madras Mahal also had the misfortune to be located just a few blocks from
Saravanaa Bhavan
, a giant among South Indian vegetarian restaurants.
Considering our experience at Madras Mahal, we're not shedding any tears over its demise.
Here's an excerpt from
NYIndia's review of Madras Mahal
:
If there was a competition for the Indian restaurant serving the worst Masala Dosa and Idlis in New York,Madras Mahal in Murray Hill would stand a very good chance of winning the First Prize.

....Idlis (you get two for $4.95) were disgustingly bad. What landed on our table was an incompletely cooked round white mass.

....Mysore Masala Dosa ($7.95) was big and a bit crisp. But that's all the positive stuff we can say about it.

Madras Mahal's tasteless Dosa had very little masala paste smeared inside, which is what gives a nice spicy flavor to the Dosa. The onion/potato filling inside the Dosa was mildly spiced but the accompanying Sambar and Coconut Chutney were flavorless and bland.
*************************
Immigrant Affairs Office Set Up in Queens NYC
January 18, 2015 -; The Queens District Attorney Richard A.Brown has set up an
Office of Immigrant Affairs
to assist the county's huge immigrant population more easily access the criminal justice system.
A highly diverse ethnic community, Queens is home to over one million foreign born people many of whom fall victim to violent and/or financial crimes.
Scam artists and criminals of various kinds target immigrants because they are unfamiliar with the legal system and often don't speak English.
A lot of crimes directed at immigrants in Queens (as well as in other parts of America) go unreported because the immigrants are completely unfamiliar with how to navigate the criminal justice system. Compounding the problem, many of the victims are illegal immigrants wary of approaching the authorities.
Career prosecutor Carmencita N. Gutierrez has been named the first director of the Office of Immigrant Affairs. She was previously Deputy Bureau Chief of the Public Integrity Bureau in the District Attorney's office.
Gutierrez' mandate is to serve as liaison to the various immigrant communities in Queens to ensure they are aware of and know how to access the criminal justice system if they are victimized. Her responsibilities include assisting community members and groups who come forward with questions, concerns or complaints and directing them to appropriate bureaus and divisions within the Queens DA's Office.
The Office of Immigrant Affairs will operate within the District Attorney's Special Prosecution Division.
Members of the public can reach the Office of Immigrant Affairs by calling
718-286-6690
.
*************************
Indian gets Prison Time for Killing Queens Indian
January 13, 2015 -;
Vishwanand Subryan
, 24, of 830 Hamilton Street in Schenectady, New York, will go to prison for a hit-and-run car crash that killed a 59-year-old Indian grandma, Raj K. Chohan in Richmond Hill, Queens on September 13, 2013.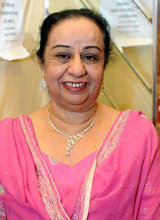 Raj K. Chohan
Following the accident and his arrest, an intoxilyzer test administrated at the 112 Precinct in Queens, NYC found Subryan with a blood alcohol level of .09%, which is slightly over the legal limit of .08th percent in New York State.
Subrayn pleaded guilty to second-degree vehicular manslaughter on November 10, 2014.
On Monday, January 12, 2015, Queens Supreme Court Judge Dorothy Chin-;Brandt imposed an indeterminate sentence of 1 1/2 to 4 years in prison ands three -;years post-release ignition interlock.
According to New York law governing indeterminate sentencing, Subrayn will be eligible for parole (i.e. be able to meet the Prison Parole Board) after serving a minimum sentence of 1 1/2 years.
*************************
Where Can Illegal Desis get a Driver's License?
January 2, 2015 -; An American
Driver's License
is a must have for any person in this country.
A U.S. Driver's License is not merely a document to drive legally in the country. The Driver's License also serves as an Identity Card to access most state and federal services, open bank accounts and for entry into airports, courts and most federal buildings.
Owing to pressure from anti-immigrant foes, most states bar the
Department of Motor Vehicles
from issuing a Driver's License to illegal immigrants.
Fortunately, there are a few states that now offer Driver's License to illegal immigrants also.
California became the latest state to offer a Driver's License to illegal immigrants.
Unfortunately, New York state still does not issue Driver's License to illegal immigrants.
10 states where Indian illegal immigrants can get a Driver's License
1. California (effective January 2, 2015)
2. Maryland (effective January 1, 2014)
3. Connecticut (effective January 1, 2015)
4. Vermont (effective January 1, 2014)
5. Illinois (effective November 28, 2013)
6. Nevada (effective January 1, 2014)
7. Washington (effective July 25, 1993)
8. Utah (effective March 8, 2005)
9. New Mexico (effective 2003)
10. Colorado (effective January 1, 2014)
and the jurisdiction of
11. Washington D.C. (effective May 1, 2014)
*************************
Indian Crook Chatwal Avoids Prison Term
December 18, 2014 - In a travesty of justice, millionaire Indian crook Sant Singh Chatwal has managed to avoid prison term for his campaign funding crimes and got a slap on the wrist.
Sant Chatwal had previously pleaded guilty to conspiracy to violate the Federal Election Campaign Act and witness tampering.
A NYC judge sentenced Chatwal, a hotelier and Hillary Clinton supporter, to three years of probation, 1,000 hours of community service and a $500,000 fine on December 18, 2014.
Sant Chatwal and his son Vikram Chatwal (arrested at a Florida airport for possessing illegal drugs) have brought shame to the Indian community through their disgraceful behavior.
*************************
8 Muslims Indicted in NYC Desi Travel Scam
December 12, 2014 - 10 desi travel agents who allegedly swindled 200 travelers of more than $1 million have been indicted in New York State Supreme Court.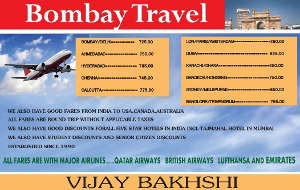 Fraudulent India Flight Tickets Scam Ad
Several of the victims who lost their money are likely Indians.
The travel ticket fraud is said to have disrupted many victims' long-planned international travel, preventing some victims from attending weddings or visiting sick family members in India.
Defendants
Of the 10 defendants, at least eight appear to be Muslims (going by their names) and are based in Queens, Brooklyn, Bronx and Pakistan.
The defendants have been charged with varying counts of Grand Larceny in the Second Degree, Identity Theft in the First Degree, and Scheme to Defraud, among other charges.
SADAQAT ALI, D.O.B. 7/19/1966
Bronx, NY
SUMIT CHAWLA, D.O.B. 9/21/1972
Pakistan
ZUBAIR DAR, D.O.B. 4/28/1965
Queens, NY
SARFRAZ KHAN, D.O.B. 8/16/1963
Queens, NY
SHAH NAWAZ KIANI, D.O.B. 3/29/1985
Pakistan
RANA MUHAMMAD TARIQ, D.O.B. 4/1/1982
Pakistan
MUHAMMAD ASIF, D.O.B. 4/1/2982
Pakistan
CHAUDHARY MUHAMMAD ARIF, D.O.B. 3/30/1958
Brooklyn, NY
JOHN DOE #2,
Queens, NY
MANJEET SINGH, A/K/A SHAMMIN TAMANA, D.O.B. 4/26/1974
Queens, NY
Here's an excerpt from Manhattan District Attorney Cyrus Vance Jr's announcement:
According to the indictment and statements made on the record in court, between June 2012 and November 2014, the defendants are accused of operating a business involving multiple incorporated travel agencies-;including Bombay Travel and Tours, Raj Travel, Gandhi Travel, Patel Travel and Maha Guru Travel-;and several bank accounts that were fraudulently opened in the name of the aforementioned travel agencies, using falsified passports and licenses. The defendants placed advertisements in predominately Indian-American publications throughout the U.S. and purported to offer competitively priced tickets to and from popular destinations in India.

Travelers seeking assistance with arrangements were instructed to provide names, passport numbers, and flight information, and deposit payment checks directly into bank accounts controlled by the defendants. However, in lieu of using customers' checks to pay for tickets, the defendants pocketed the money and instead used stolen credit card information-;including that of American Express, Citibank, and Discover card holders-;to buy the tickets that were later sent to their customers. When travelers arrived at the airport for their scheduled trips, many were informed that their tickets had been cancelled, or that they would not be able to travel using the illegally purchased tickets, for which they had already paid thousands of dollars to the defendants.
*************************
Ravinder goes to Prison
Ravinder Dharamshot of Queens Village, NY has been sentenced to 10-years in prison for robberies of two gas stations and a deli in 2013.
All three robberies happened in Queens.
The total money robbed in the three incidents amounted to about $1,500.
Ravinder pleaded guilty to first degree robbery in July 2014 and was sentenced on September 19 by Judge Barry S.Kron. The robberies were done in partnership with Umair Farooq, who is already serving a 10-year sentence.
*************************
NY Malayalee gets 2-Year Jail Term
September 16, 2014 - Nyack (NY Mallu resident
Jojo John
(36) was sentenced today to two years in prison for crashing a power boat into a construction barge 30-miles from Manhattan under the influence of alcohol on July 26, 2013.
The crash took the lives of Jojo's friends, bride to be Lindsey Stewart (30) of Piermont and a best man Mark Lennon (30) of Pearl River.
In June 2014, Jojo pleaded guilty to vehicular manslaughter.
Jojo had nearly twice the legal blood alcohol level in his body when he was driving the Stingray power boat. According to New York law, the legal limit for alcohol to operate a boat or vehicle is .08%.
Hail from South India
Jojo John's family hails from the South Indian state of Kerala and have lived in the Hudson Valley area for about 15 years.
At his sentencing before Judge William Kelley today at the Rockland County courthouse, Jojo expressed remorse over the incident:
There are days when I question why God took two people and not me. I find myself crying a lot because of how my heart feels about them not being here ... I'm standing here heartbroken.
Jojo John was a member of the Hudson Valley Malayalee Association.
"It is very said for the Indian community today to see such a sentence for Jojo John,....All of us are feeling miserable actually," Indian community activist P.T.Thomas told the media.
Although Jojo has been sentenced to two years at the Rockland County Jail, he may get out in 16 months provided he exhibitys good behavior.
Jojo also faces civil court cases from the victims' families.
*************************
Singh Pleads Guilty to Singh Murder
September 11, 2014 - Richmond Hill resident
Nermal Singh
(52) will likely get 11 years in prison for killing a homeless man
Gaswander "Giani" Singh
.
Nermal Singh pleaded guilty to first-degree manslaughter of Gaswander Singh earlier this week before Queens Supreme Court Justice Kenneth Holder.
According to Queens District Attorney Richard Brown, Nermal Singh admitted to taking a 3-;ft piece of wood and slamming it into the head and face of Gaswander Singh who was lying in his sleeping bag on 121st St, off of Jamaica Avenue on August 12, 2011.
As per the criminal complaint, Nermal Singh had become enraged because Gaswander Singh had earlier said he wanted to have sex with Nermal's mentally-;challenged sister. A fight between the two men was stopped by passing cops but later that night Nermal Singh went to the location where the homeless man Gaswander Singh slept and beat him to death.
Nermal Singh's sentencing is set for October 2, 2014.
*************************
Bollywood Flop Sunny Deol is Grand Marshal
August 11, 2014 -
Sunny Deol
is not only a flop in Bollywood but a terrible actor even by the lowly Indian standards.
Yet the
Federation of Indian Associations for NY, NJ and CT
has picked this
creature
as
Grand Marshal
of the
India Day Parade 2014
2014 on Madison Ave to celebrate India's Independence day.
Sunny Deol's
only claim to fame is that he happens to be son of yesteryear Hindi film hero Dharmendra.
In a country of a billion plus people are there no talented people that we stoop to import flops like Sunny Deol as Grand Marshal.
Indian-American businessman
Vivek Ranadive
is the other
Grand Marshal
of the
India Day Parade 2014
.
NYC India Day Parade is scheduled for August 17, 2014.
Indian Day Parade -; Details
* Starts at 12PM Madison Ave from 40th St and ends at Madison Ave and 27th St.
* Cultural program at the end of the parade from 3PM-6PM on Madison Ave at E.23rd St.
* Food courts and merchandise booths are open from 11 AM-6PM between E 24th & E 26th St on Madison Avenue.
Stick to the subway and avoid going by car as parking is a headache even during normal days in Manhattan.
*************************
Small-time Bollywood Actor Closes Bhojan
Bhojan
Indian vegetarian restaurant @ 102 Lexington Avenue in New York City has closed.
Bhojan was one of the Indian restaurants owned by small-;time Bollywood actor Shiva Natarajan.
In an effort to attract diners, Natarajan offered Groupon deals on multiple ocasions. But that did not help the restaurant.
Natarajan is opening
Haldi
Indian Cuisine at the same location in August 2014.
A few years back, I ordered a takeout from
Bhojan
and the horror of that meal still lingers on my tastebuds.
Besides Bhojan, Natarajan has closed
Tadka
and
Singapura
in the past in NYC.
*************************
Kailash Parbat Comes Down to Curry Hill
Rejoice!
Mumbai landmark vegetarian restaurant
Kailash Parbat
is opening an Indian outpost in Manhattan at 99 Lexington Avenue.
Kailash Parbat
will bring Chaats (Indian street food) and Sindhi food to NYC diners.
The stretch of Manhattan where Kailash Parbat is located is known as
Curry Hill
because of the profusion of Indian restaurants dotting the Murray Hill landscape.
Famous for Pani Puri and other Chaats, Kailash Parbat has also earned a reputation for its Sindhi (Punjabi) food.
Kailash Parbat had its origins in Karachi in the 1940s when the Mulchandani brothers peddled Pani Puri, Ragda and other Indian street food on Bans Road.
After Partition in 1947, the Mulchandanis left Pakistan and dropped anchor in Mumbai.
Kailash Parbat NYC Menu
Besides a variety of Chaat (Samosa Chaat, Pani Puri, Sev Puri, Bhel Puri, Dahi Puri etc), you can expect to see Sindhi Curry, Koki, Bhindi Basar, Seyal Paneer, Kasuri Methi Bhatura, Paneer Bhatura, Masala Bhatura, Cheese Bhatura, Pindiwale Chole Masala, Methi Malai Mutter and Diwani Handi on the menu of Kailash Parbat NYC.
Don't be surprised to see Indian-Chinese food too on the menu because Indians now drool at the mere mention of Gobi Manchurian and Chop Suey.
*************************
Shalom Bombay Closed
Shalom Bombay
Kosher Indian restaurant at 344 Lexington Ave in Murray Hill has closed.
The Teaneck, New Jersey location of
Shalom Bombay
continues to be open.
*************************