NYC Biryani Restaurants
Biryani
is now as ubiquitous as Tandoori Chicken and Chicken Tikka Masala at NYC Indian restaurants.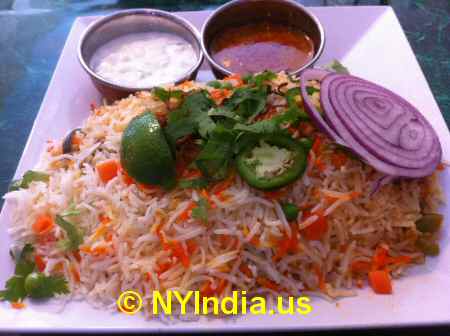 Hyderabad Dum Biryani
What is Biryani
Biryani is a flavor-filled rice dish prepared by cooking Basmati Rice with Cinnamon, Clove, Cardamom, Ginger, Garlic and a bunch of other Indian spices.
Biryani can be vegetarian or include chicken, goat, lamb or shrimp.
Most Indian restaurants in Manhattan, Queens, Hicksville, Jamaica, and Brooklyn offer Biryani as part of their menu.
While tons of NYC Indian restaurants offer Biryani, there are a few dedicated Biryani restaurants and food carts in Midtown West, Jackson Heights, Flushing and Hicksville.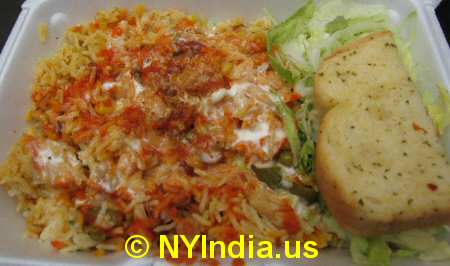 Biryani Cart's Vegetable Biryani (with Garlic Bread)
Biryani comes in two varieties -; Hyderabad Dum Biryani and the regular North Indian or Awadh Biryani.
Hyderabad Dum Biryani
Hyderabad Dum Biryani is offered by restaurants owned/run by Telugu speaking people from the South Indian states of Andhra Pradesh and Telangana.
Hyderabad Dum Biryani is available in multiple kinds -; Vegetable Dum Biryani, Egg Dum Biryani, Chicken Dum Biryani and Goat Dum Biryani.
Hyderabad Dum Biryani is usually spicier and priced between $8.99 to 15.99 depending on the variety.
Here's a list of Indian restaurants in NYC offering regular and Hyderabad Dum Biryani rice dish:
46th St and 6th Ave
New York, NY 10036
Ph: 212-555-1212



Hyderabad Biryani

44-27 Kissena Blvd
Flushing, NY 11355
Ph: 718-353-5577


76-05 37th Ave
Jackson Heights, NY 11372
Ph: 718-247-7256



Shahi Biryani

71 W 109th St
New York, NY 10025
Ph: 212-222-8820


Other NYC Indian Food Links
NYC Indian Vegetarian Restaurants
Lexington Ave NYC Indian Buffet
NYC 24hrs Indian Restaurants