Kailash Parbat NYC
(By Ravi)
Address:


Kailash Parbat NYC

99 Lexington Ave
(At 27th St)
New York, NY 10016


Kailash Parbat NYC: Needs to get Spices Right
Located in
Curry Hill
at the intersection of Lexington Avenue and 27th Street in Manhattan, this recently opened vegetarian restaurant promises an authentic Sindhi experience, along with scrumptious chaats.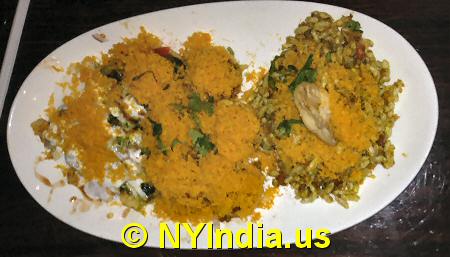 KP Chaat Platter
As my only exposure to Sindhi food so far had been through the limited cooking skills of my US college roommate, I decided to play safe and stick to the chaats.
Since their web site had claimed chaats to be one of their specialties, I wanted to see how they compared to the ones I had in Mumbai and Delhi.
Food
I was keen that our food retain its essential spiciness and not get toned down the way it is normally done in many Indian restaurants, to suit blander American palates.
Our order of their signature KP chaat platter, chole bhaturas, a pitcher of jaljeera and sweet-;and-;salt lime soda was delivered to us within a short wait time, but ended up being a mixed fare in terms of palate appeal.
KP Chaat Platter
The chaat platter is a mix of chaats and comes with dahi wada, bhel puri, sev puri with spicy potatoes and a corn basket.
Despite its name, the dahi wada isn't really a vada, more like crispy papdi chaat.
The corn basket is small edible katoris or cups filled with chickpea, sev etc.,
The chaat was blander than we expected, compelling us to ask for spicy chutney for some badly needed
kick
.
Though our Bangladeshi waiter responded promptly by bringing us mint and sweet chutneys, it was a disappointment to note that despite our specific request, we still ended up with blander fare than we had wanted.
Kailash Parbat is clearly not a restaurant that values authenticity in its Chaat or pays heed to diners' requests.
JalJeera
The jaljeera, though, made up for the disappointing chats with its crispy coolness and authentic taste.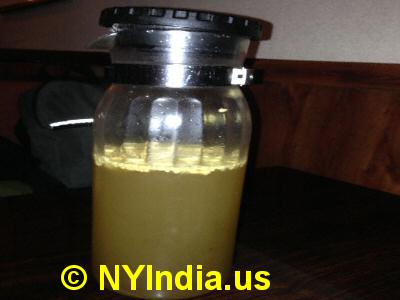 Jaljeera Pitcher
This must be one of the best jaljeeras I've had in the US in a very long time.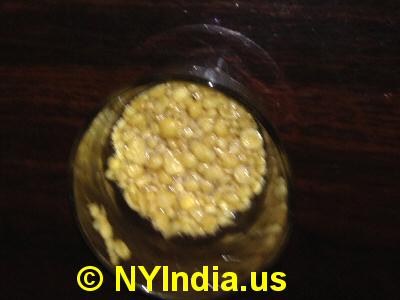 Jaljeera
The ones served with pani puris in many Indian restaurants in US is weak and a poor substitute.
Lime Soda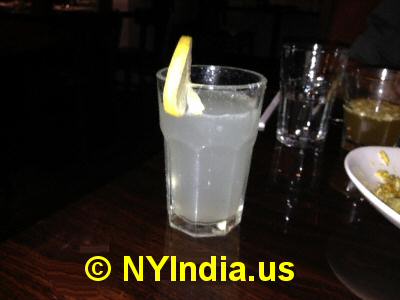 Sweet and Salt Lime Soda
The sweet and salt lime soda was another let down.
For the price ($4.50), the glass was smaller than a regular water glass.
Chole Bhaturas
The Chole Bhaturas, served with a side of channa, were good and I ended up ordering an extra masala bhatura, but did not really notice much difference from the regular non-masala ones.
Thankfully, the channa was spicy and tasty.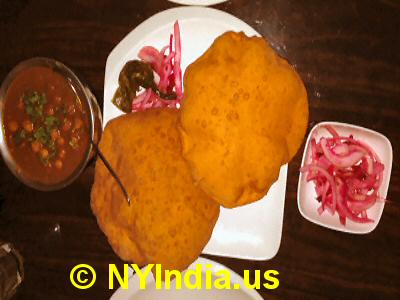 Chole Bhatura Channa
The bhatura was slightly larger in size than a puri but smaller than the ones I was used to.
It had the right crispiness, though, and did not come dripping in oil.
They obviously know their bhaturas but need to get more generous on the sizes. The beauty of a bhatura lies in part in its buxom appeal.

Ambience
There weren't many customers when we sauntered in on a Friday night, but it soon started filling up with Indian families and some noisy kids.
Since the restaurant is not too big and the tables are close to each other, this does not bode well for a pleasant dining experience if the place gets crowded.
However, the tables and the restaurant itself looked clean, and unlike many small Indian restaurants in NYC area whose restrooms are poorly maintained and stench filled, Kailash Parbat's restroom was a pleasant surprise, well maintained and brightly lit.
Service
Our waiter was a Bangladeshi student, courteous, ever smiling and eager to assist, filling up our water glasses even before taking our order.
He also came up with helpful menu suggestions when I looked undecided.
Even as the restaurant was getting busier and the waiters had to scurry between tables, someone came over to check in on us and refilled our water glasses.
A service that surely did not go unappreciated.
Final Thoughts
Kailash Parbat seems to have gotten their presentation right with a nicely done web site and a clean and conveniently located restaurant, but seems more like it wants to appeal to the blander US palate and not the spice-craving
desi
ones.
Their prices too are higher, when seen alongside other comparable restaurants in NYC.
Overall ended up paying $65 for two with tips, and couldn't help the feeling that we had not gotten enough bang for the buck.
A serious rethink on prices and portion sizes is needed, if they want to succeed in the Curry Hill area.
Go there for their jaljeera and bhatura, not if you are looking for a decent chaat platter. ©
NYIndia.us