Bengali Sweet Shop Hicksville Review
Address:


Bengali Sweet Shop

343 South Broadway
Hicksville, NY 11801


Bengali Sweet Shop Sweets Review: Below Par Indian Sweets
I love Indian sweets.
In an ideal world, no meal of mine would end without a bite of Motichoor Laddu, Kheer, Arise, Ravva Ladu or Mathura Peda.
It is too satisfy my sweet cravings that I purchased a pound of assorted sweets ($10.50) from Bengali Sweet Shop in Hicksville.
To add some spice, I added a pound of Pakoras and a Mirchi Bajji ($5) to my order.
Assorted Sweets
Here is my take on Bengali Sweet Shop sweets starting with Besan Laddu: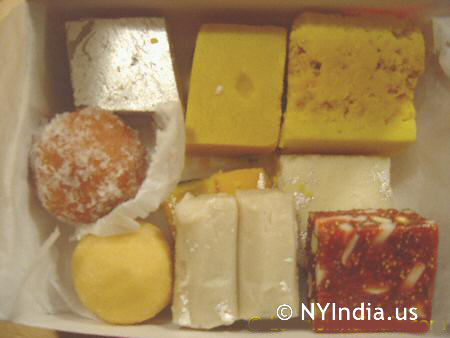 Assorted Sweets - $10.50 per pound
Besan Laddu was low on ghee and packed a raw flour taste. The raw flour taste was so strong making me wonder how difficult it is for a Sweet shop to get this humble sweet right.
Ditto with Bengali Sweet Shop's Kesar Pista Roll. The proportion of sugar was higher than warranted and pista stuffing too little.
Besan Barfi was a close competitor to Besan Laddu in its awful taste. It was also low on ghee and had raw flour smell and taste.
Mysore Pak was yet another Besan flour based sweet that Bengali Sweet Shop failed to get it right. It was low on both ghee and sugar.
Kaju Pista Roll had too little Pista stuffing and was a bit high on sugar. It was slightly moist as it should be but the lack of proper proportion of sugar, kova and pista stuffing ruined the joy of eating this commonplace Indian sweet.
Kalakhand was slightly stale and short on sugar.
Dry Jamun was not cooked properly inside and the grated coconut topping was bordering stale.

Relief from the Bengali Sweets torture came in the form of Anjeer Barfi and Kaju Barfi.
Anjeer Barfi with cashew and pista nuts was not bad.
Kaju Barfi with right amount of sugar and kova was the only sweet that I liked among the lot. It was good.
Pakora, Mirchi Bajji, Chutneys
Disappointed with the sweets, I moved on to Pakoras and Mirchi Bajji little realizing the horror that lay ahead.
My Pakora and Mirchi Bajji order included eight mixed vegetable Pakoras, one Chilli Bajji, and Green Chutney and Tamarind Sauces as sides.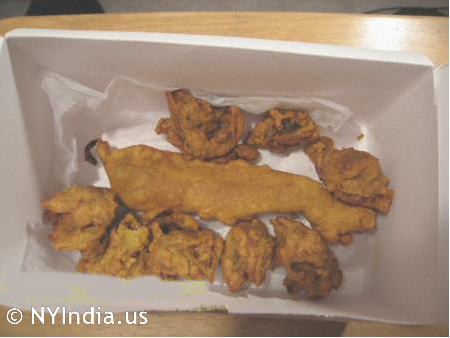 Pakora, Mirchi Bajii - $5
Pakoras included small cubes of Potato and chopped Onion.
The mixed Vegetable Pakoras were obscenely spicy and badly lacking in right proportion of salt to balance the chillies.
Also, Potato pieces in Pakoras were completely raw making a bad situation worse.
The lone Mirchi Bajji did not provide the much needed relief.
You see the outer flour covering was too thick (see the picture below) and tasteless and ruined the joy of eating this popular Indian snack.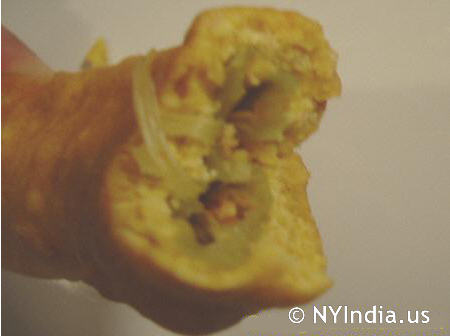 Awful Mirchi Bajji
Tamarind sauce was alright but nothing to write home about.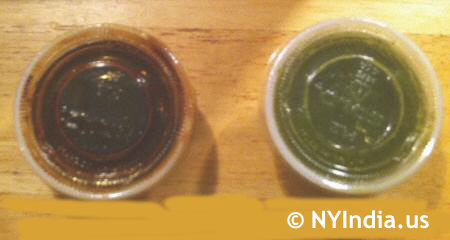 Green Chutney, Tamarind Sauce
But Green Chutney was bad. You see it was too watery and lacking in salt.
Ambiance and Service
As you enter Bengali Sweet Shop, you have tables on the right, sweets counter on the left by the wall, food counter and kitchen in the rear.
Service at Bengali Sweet Shop in Hicksville is below par.
The desi waitress was rude and hopelessly inept in rendering professional service to paying customers.
Though there were no other customers and the restaurant was near empty, she became impatient with my selection of sweets and messed up my order.
While buying the sweets, I requested her to put only one piece for each variety of selected sweets.
But when I opened the box after coming home there were two pieces each of Kaju Pista Roll and Kesar Pista Roll.
Also, the dry Jamun some how crept into my box though I never selected that sweet. I am not a big fan of this dry Jamun with grated coconut topping.
Plus, my Pakora takeout order did not come with napkins.
Bengali Sweet Shop Rating
All in all, I did not relish most of the sweets.
Vegetable Pakoras and Mirchi Bajji were awful with raw, uncooked vegetables and too much flour covering respectively.
If you love Indian sweets like me, I recommend you steer clear of
Bengali Sweet Shop
on Broadway in Hicksville. - ©
NYIndia.us