NYC Indian Community Guide
Indians in New York City
New York City has one of the largest populations of Asian Indians in the U.S. Indians have been migrating to NYC since the 1960s. Most of them initially settled in the affordable and ethnically diverse borough of Queens.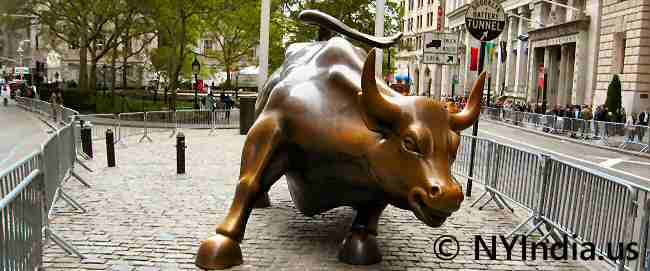 NYC Indian Businesses
As their numbers grew, Indians established businesses such as
grocery stores
,
real estate agencies
, dental practices to cater primarily to their fellow immigrants.
Spotting an opportunity, several Indian attorneys set up immigration & civil law firms in Manhattan and Queens to help fellow desis with their Green Card and citizenship forms, file asylum applications or to fight deportation orders, DWI/DUI and traffic violation tickets.
The businesses and Indian restaurants initially came up on Main St in Flushing and 74th St in Jackson Heights, both in Queens. After the grocery stores and restaurants, came Indian
fashion
and appliance stores and
jewelry stores
.
Next came newsstands and convenience stores in Manhattan, Queens and further afield in Long Island.
NYC Buffets, Sweets & Biryani
In 1970s, a band of entrepreneurs opened the first Indian restaurants in Manhattan. There's been no looking back since.



Anjappar Chettinad NYC

Middling Indian Fare


(Bet 27th St & 28th St)
New York, NY 10016



Chandni

Yummy Gobi Paratha Breakfast


(Bet Broadway & 5th Ave)
New York, NY 10001
Today there are over 180 Indian restaurants in Manhattan alone serving a range of delicacies from Chicken Tikka Masala, Pongal, Lamb Vindaloo to Hyderabad Dum Biryani, Chilli Chicken and more.
If you include Queens, Brooklyn and Bronx, the number of Indian restaurants would swell to over 300.
Hindu Temples
While the early Indian immigrants to NYC hailed mostly from Punjab, Delhi and Gujarat, there's been a recent wave of immigrants from South Indian states like Andhra Pradesh and Tamil Nadu.
Just visit the
Flushing Ganesh Temple
on weekends and you'll see hordes of Tamils, Telugus and Kannadigas prostrating before the elephant God. The late 1990s and the first dozen years of this century has seen a big influx of software professionals into New York City. Many of these programmers work in Manhattan but live in
New Jersey
or Queens.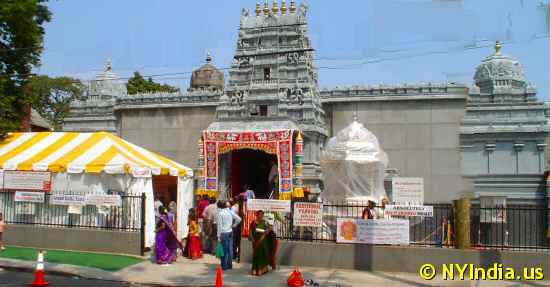 In recent years, Bangladeshis through the Greencard lottery and Pakistanis through family connections have also been moving into Brooklyn and Queens in large numbers.
Coney Island Ave in Brooklyn (between Newkirk Ave and Avenue H) and 73rd St in Jackson Heights are the business hubs of Pakistanis and Bangladeshis respectively.
Hindi & Telugu Movies in NYC
The size of the NYC Indian community is so big that Hindi films are screened week after week at mainstream American theaters like
AMC Empire
in Times Square and in Jamaica Multiplex theatre in Jamaica.
Whether it is
Bharat
or
2.0
or any other Indian movie you can watch them for sure in NYC.
Yet another attractive thing in NYC is the cheap movie tickets for Hindi movies screened before noon.
Hindi movie tickets are priced at $8 per ticket for shows before 12PM at theatres like AMC Empire.